Iranian Music Night – Taqasim Oud Club – July 2019
The Taqasim Foundation & the Taqasim Music School are pleased to announce a special program for this month's Taqasim Oud Club!
Join for a night of Iranian Music, song and poetry!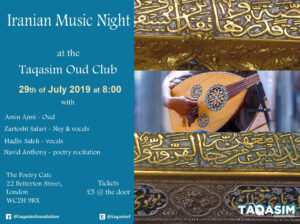 Iranian Music Night
When: Monday, 29th July 2019 at 8:00 pm
Where: 22 Betterton Street, London, WC2H 9BX
Tickets: £5 (cash at the door)
The night will begin with our regular Open-Mic at 8:00 pm followed by our special program.
See you there!
________________________________________________________________________________
Taqasim Oud Club – June 2019
Calling all music and poetry enthusiasts. Join us this month at the Poetry Cafe, Covent Garden for a night of oud, music, poetry & performance!
When: Monday, 24th June @ 7:30 pm
Where: 22 Betterton Street, London, WC2H 9BX
Tickets: £5 (cash at the door)
Arrive at 7:00 for Open-mic sign-up
See you there!
---
Taqasim Foundation: Music of the Maghreb
The Mosaic Rooms
20 June 2019 @ 7:00 pm
Subject: Discover emotional maqams, mystical rhythms and classical forms from Morocco, Tunisia and Algeria.
Master musician and lecturer: Ahmed Mukhtar (oud)
The Mosaic Rooms: Tower House, 226 Cromwell Rd, Kensington, London SW5 0SW
Tickets: Free
---
Stroud Green Festival – The Secrets of Andalusia
The Story of Flamenco music's embedded roots in medieval Spanish, Arabic and Sephardic music: an exciting coming together of one of London's most exciting young early music group Lex Musicae London, with master of the oud Ahmed Mukhtar and master of the flamenco guitar Ignacio Lusardi Monteverde.
For more information click HERE
امسية: أسرار الأندلس – عود وجيتار مع احمد مختار و اجناسيو مونتيفيردي – للمزيد من المعلومات وللتذاكر اضغط هنا
When: Saturday, 15th June 2019 @ 5:30 pm
Where: St. Saviour's Church, 79 Hanley Rd, Finsbury Park, London N4 3DQ
Tickets: Click HERE (scroll to event 11)
---
Ahmed Mukhtar – Album Release Concert & CD Signing
We are pleased to announce Ahmed Mukhtar's upcoming Album Release Concert this June.
احمد مختار – رؤى من العراق – امسية و توقيع اسطوانة في لندن – للمزيد من المعلومات وللتذاكر اضغط هنا
Ahmed Mukhtar will be at the Green Note, Camden Town for a special album release concert followed by a CD signing.
When: Tuesday, 11th of June 2019 (doors open at 7:00 pm)
Where: Green Note
106 Parkway,
London, NW1 7AN
Tickets: Click HERE
---
Maqam Moods
The Mosaic Rooms
29 November 2018 @ 7:00 pm
Subject: Take a journey through the history of maqamaat, exploring the origins of these modes and the emotions they evoke.
Master musician and lecturer: Ahmed Mukhtar (oud)
Percussionist: Elizabeth Nott
The Mosaic Rooms: Tower House, 226 Cromwell Rd, Kensington, London SW5 0SW
Tickets: Free
---
Lunch-time Lecture
part of the
Ashurbanipal Exhibition.
The British Museum
8 November 2018 – 24 February 2019
Subject: Music at the time of Ashurbanipal
Lecturer: Prof. Richard Dumbrill (Archeomusicologist)
Musical illustrations: Sevan Habib (vocalist)
---
Film Premier: Voices of Iraq
FRRME (The Foundation for Relief and Reconciliation in the Middle-East)
7th September 2018
Music performed by: Ahmed Mukhtar (oud) & Ignacio Lusardi Monteverde (flamenco guitar)
Private event
"Music Heals the Soul" – Exclusive interview with Ahmed Mukhtar by FRRME
---